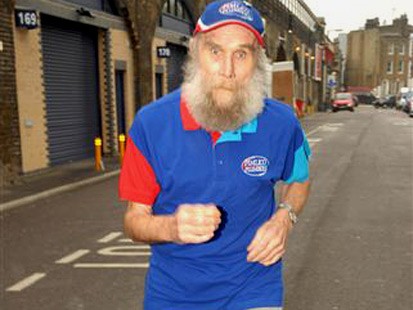 So, today as I was perusing DIGG as I am want to do when I cannot seem to focus my thoughts very well, I found a story on ABC.com that I felt was absolutely inspiring, funny, but ultimately a little convicting.
"Buster Martin is an unlikely candidate to set a marathon record. He drinks beer, smokes cigarettes and stays out late. And he's 101. But Martin expects to shatter, or at least ease past, the record next month when he runs London's marathon. And he is counting on having a beer at the finish line. He smokes, drinks, stays out late, which is probably why he is still alive," said Charlie Mullins, the managing director of the plumbing company where Martin cleans vans. When not working three days a week for Mullins, Martin can be found in a nearby boxing gym working with a pair of trainers in preparation for April's run. He refuses to be impressed by the fact that he is still running.I am not doing anything unusual. I am just running a marathon," he told ABC News."
So, I thought, WOW, how amazing. This old man (and I MEAN OLD) is out there running... then I realized he is trying to run a marathon... then I realized he tried to do it in under 8 hours.... and then halfway through he stops off to have a beer and a cigarette. Outside of checking this guy for HGH, we should probably enter him into some kind of Scientific Study, because clearly he is an alien or some other mythic creature.
However, seriously, I have been thinking about training for a marathon for about three years now... if this guy could do it... couldn't I?